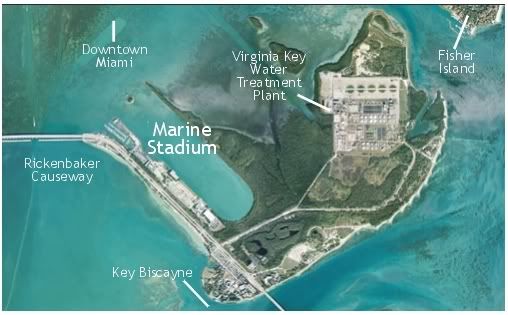 MVB
attended tonight's
charette
on the future of Virginia Key and the Miami Marine Stadium and is pleased to announce that the overwhelming consensus of
Miamian's
is to save and restore the Miami Marine Stadium. Nearly 200 people were in attendance. 14 tables consisting of 10 people were asked to brainstorm ideas on how Virginia Key should be developed. Out of the 14 tables, 12 wanted to save and restore the marine stadium. One table wanted to save and restore the stadium but wanted only passive boating activities and one wanted to replace it outright with a high school (this table was made up of Key
Biscayners
, AKA
nimbys
).
What we found interesting is table 12's contribution. It's spokesperson wanted to make it clear that commissioner Sarnoff who was at that table "contributed but did not participate." That table, which was for saving and restoring the stadium, wants to rename it "Jimmy Buffet Stadium." Call us paranoid, but we kept an eye on table 12 and noticed the Key Biscayne nimby table were quite palsy-
walsy
with the commissioner, making numerous forays to talk to him. We suspect they were lobbying for their position and reminding him in oh so subtle ways that they have enough money to back his run for re-election.
We would like to remind the good commissioner of his Miami Today quote regarding the controversial decision by "the electorate" who voted to put the art and science museums in Bicentennial Park. He supports that project which is unusual for a NIMBY and states that voters should be given "a lot more credit" for knowing exactly what they were voting on. Well, Mr. Commissioner, don't forget what you saw tonight. We know exactly what we want: Saving the Marine Stadium.

Table 7, in favor of saving and restoring with a vengeance (not our table but ours in spirit), made it clear they wanted a "non-biased engineering study" regarding the structural integrity of the stadium. A city of Miami spokesperson told the crowd that a study is underway.
Despite not seeing one example from the consulting firm
EDSA
of a conceptually restored stadium (even the maps left it out), we were told over and over again not to fret because it hadn't been forgotten or eliminated from future plans. I think tonight's
charette
will make it hard for them to dismiss the will of the people. And then maybe not. Despite wanting to believe as hard as we can that we are not being conned, we find it hard to understand after all of this time nothing had been done to include a representation of the Marine Stadium in the maps or supporting documents. Maybe we've just been living here too long and have become jaded towards promises made by governmental officials and their consultants. Only time will tell. Right now we should be happy.
UpDate (8/20/08):
The third public meeting for the Virginia Key Master Plan will be held Tuesday, August 26, 2008. The latest design ideas will be presented by EDSA, the lead consultant.
When & WhereTuesday, August 26, 2008
6:30 p.m. - 8:30 p.m.Miami City Hall Chambers
3500 Pan American Drive
For more information on the Virginia Key Master Plan, please visit
http://www.edsaplan.com/Virginia_Key/home.html
UpDate (8/27):
The "experts," AKA city planners/consultants, came back with the latest designs for Virginia Key. Despite an earlier charette where the public overwhelmingly agreed that the Marine Stadium should be saved, it is glaringly absent from this latest iteration. In its place: Two 5-story parking garages, a "dry-stack" boat storage for 700 boats, 41,000sf of "small scale retail," and Olympic-sized swimming pools among other sundry items. The city and its experts have effectively destroyed one of the few things that makes Miami unique in the world and replaced it with the pedestrian. The Marine Stadium was the
only
one of its kind on the planet. Now, because it might be "cost prohibitive" to fix-up, we have become a lesser city, less unique, and a people less worthy of being taken seriously, at being looked upon by others as blessed, lucky, special and cool.
UpDate (9/19/08):
Friends of the Miami Marine Stadium
pulled off a major coup: they got the
World Monuments Fund
to endorse saving the Marine Stadium. This couldn't have happened at a better time because The City of Miami Historic and Environmental Preservation Board will discuss and possibly make a determination of the final historic designation of the Miami Marine Stadium at their meeting on Tuesday, October 7, at 3:00 PM, City of Miami Commission Chambers. Failure to do so should make them look like idiots-- or at least suspiciously on the take. If you got the time, try to stop by to make your voice heard.
UpDate (10/7/08):
The City of Miami historic preservation board finally saw the light: by a vote of 8-0, it agreed to designate the Miami Marine Stadium worthy of preservation as an historic site. Let's see the visionless try to knock it down now!
UpDate (4/27/09):
The Miami Marine Stadium becomes one of eleven buildings on the National Trust for Historic Preservation thanks in part to the efforts of Miami architect Jorge Hernandez and Friends of the Miami Marine Stadium. Let's see our visionless bureaucrats try to touch the old lady now.