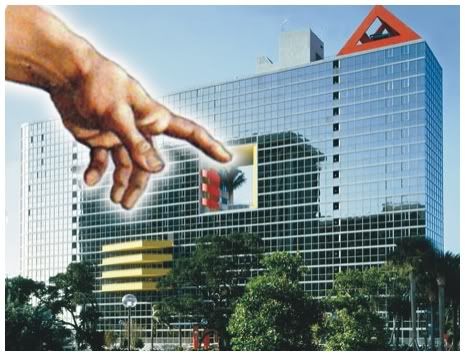 A recent prayer that was sent up to me by a true believer asked how I came to favor Miami. Well, up until 1982 I was pretty much bored and disappointed with earth's architects until I started watching them erect Atlantis, a condominium designed by a basically unknown architectural firm called
Arquitectonica
headquartered in Miami. I kept waiting for them to fill in the hole but they never did. Instead, they painted the walls of the opening bright yellow, hung a giant red corkscrew staircase, dropped in a Jacuzzi, and jammed a palm tree into that space. I sat up and took notice. What exactly was going on here? I asked myself. Nothing in the architectural world could get me excited anymore until Atlantis hit the scene. It brought me out of a deep dark funk which began with the rise of the "International Style." I soon realized
Arquitectonica
was leading a whole slew of architects into what I believe is an architecture of the future that embraces fun and daring-do instead of restraint and "less is more"-- although less is more is the best advice for uninspired hacks who call themselves architects. I consider Atlantis to be the benchmark for this transition into what some have labeled "tropical modernism," a term I find insufficient to cover this broad new global approach to architecture. I prefer a more ethnocentric term that reminds everyone where it all began:
Miami
Modern Squared, or
MiMo

²
, to avoid confusing it with
MiMo
, the fun, postwar architecture made famous my Morris
Lapidus
' Miami Beach hotels.
Some facts on the building that started it all:
20-stories, 96 condo units, 6 apartments per floor
5-story "sky court"
300' long by 37' wide (the length of each side of the building's "hole")
It appeared in the opening credits of the "Miami Vice" TV series
A rival developer, concerned that Atlantis was taking all the attention away from his new building next door, hired famed kinetic artist

Yaacov

Agam

to make the building look like one of his 3D paintings. Thousands of gallons of paint later, the Villa Regina still can't save itself from the powerful aesthetics of Atlantis although it does allow a select few to say dismissively, "You may own an

Agam

, but I

live

in one."
Now, after 25-years, Atlantis has decided to light up its way cool red roof-top pyramid. That red glowing pyramid is a welcome addition to Miami's ever changing night time skyline.
Since the emergence of
Arquitectonica
, I've been making Miami my permanent home because of its envelope pushing architectural firms and the buildings they're designing for the city they live in. Their cutting-edge buildings have influenced the way developers here think, thus raising the aesthetic criteria in their choices when bringing in equally exciting architects from outside of Miami. In that sense, Miami has become an incubator for innovation and brilliance in architecture because, once the bar has been raised this high, no developer is going to take a chance on architects who can't bring attention to his or her multi-million dollar investment. Now, if only your local politicians and planning departments would become that consistently demanding when plans for a new building come before them, perhaps someday Miami and the Beaches will become known not just as the "sun and fun capitals of the world," but also as the "Architectural Capitals of the World."