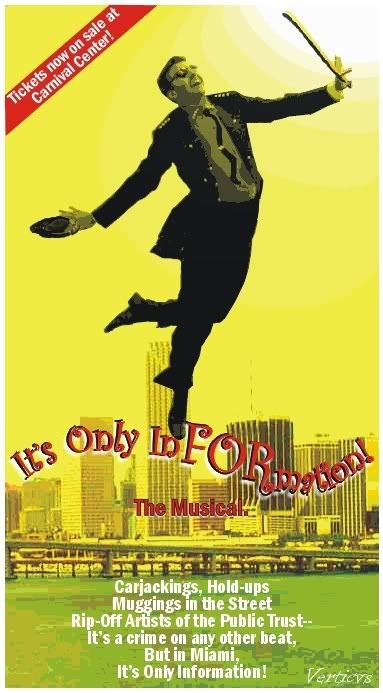 Miami-- Seven time Tony Award winner
Stephen Sondheim
(
West Side Story, Gypsy, A Funny Thing Happened On The Way To The Forum, Sweeney Todd
and more) is turning to Miami for inspiration for his next musical.
It's Only Information!
is based on the City of Miami Police Department's unique take on reporting crime. Where most cities report carjackings, hold-ups, and muggings as crimes, Miami sees it only as "information"-- something the Chamber of Commerce encourages since it keeps crime statistics down.
When Mr. Sondheim heard this, he immediately dropped to his knees and thanked God because he'd been in a long creative slump and was wondering where his next big idea for a musical would come from.
"'It's only information' was all I needed to hear," he said. "It became the musical's main refrain. I guarantee you everyone will be humming this song in no time. The song-and-dance number with all the cops alone is Tony material."
Vince McMahon
, is co-producing the musical, his first since being appointed CEO of Carnival Center where it will make its world debut. "Who needs Broadway," Mr. McMahon said. "We've got a half billion dollar performing arts center. Let's put it to work."
This will be Mr. Sondheim's first launch of a musical outside of New York. When asked if he was a little anxious working with Mr. McMahon who's had no experience with musicals, he said, "Vince is a great guy. Once you get past his muscles, it turns out he's a Broadway aficionado. Hell, the guy even took ballet and tap dancing lessons as a kid. You should see him do a shuffle-off-to-buffalo in a top hat and cane. The guy's a Renaissance Man, I tell ya. We're a perfect match."
When asked how he felt about debuting a musical in Miami, a town without pity for musicals, Mr. Sondheim said, "That's the only part that's got me worried."