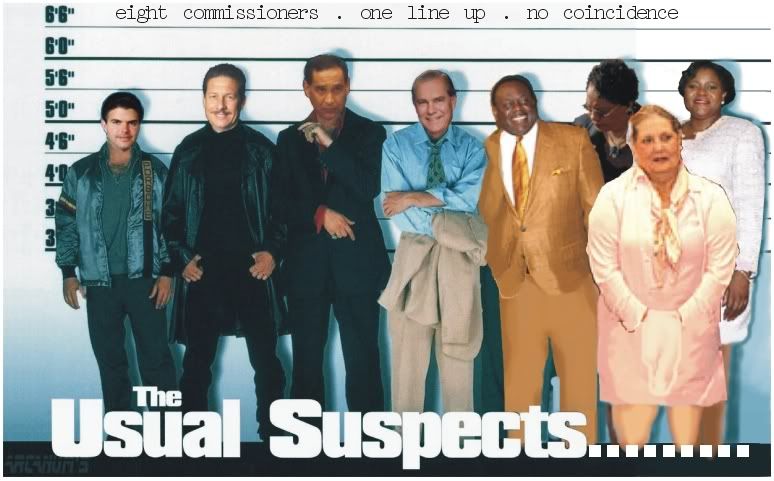 The
Urban Development Boundary
isn't supposed to be touched or moved an inch. It's been there since 1989 to protect ourselves from over development and encroachment of our wellfields and recharge areas, working farms, and environmental lands vital to the health of the Everglades and Biscayne National Parks. Yesterday marked the
third
time
Lowe's
came before the commission to request extending the boundary further west so that they can build another home improvement super store. Despite county staff recommendation NOT to do it, 8 commissioners did. They are:
Bruno Barreiro, Jose "Pepe" Diaz, Joe Martinez, Javier Souto, Dorrin Rolle, Barbara J. Jordan, Natacha Seijas, and Audrey Edmonson
.
They should be ashamed of themselves.
Environmental activists have sworn to file a suit to stop the project if county Mayor Carlos Alvarez refuses to veto it first.
In any event, it now goes to the state for a
third
time. Twice the state, which oversees such matters, voted against extending the boundary. Let's hope they remain consistent.
For those commissioners who stood firmly against such a cockamamie notion, we applaud them heartily. They are:
Carlos Gimenez, Sally Heyman, Dennis Moss, Katy Sorenson, and Rebecca Sosa
.
UpDate (12/5):
Miami-Dade County Mayor Carlos Alarez vetoes the resolution.
UpDate (4/25/08):
The Miami-Dade County Commission votes 9-4 to move the UDB. Even if Alvarez vetoes the vote, the commission has enough votes to override it. Next step: litigation. The state will oppose and we predict the county will lose. Right now, the people have lost thanks to these short-sighted, visionless, usual suspects: Bruno Barreiro, Jose "Pepe" Diaz, Audrey Edmonson, Barbara Jordan, Martinez, Dorrin Rolle, Natacha Seijas, Rebeca Sosa and Javier Souto.
UpDate (4/30):
Alvarez vetoes the vote. Whoop-te-doo.
UpDate (5/7):
The county commission overrides Alvarez's veto 8 to 4. Those who voted against this asinine proposal and who should be lauded are: Commissioners Carlos Gimenez, Dennis Moss, Katy Sorenson and Sally Heyman. Now it goes to the state. Expect another court fight.
UpDate (7/18):
The State overrides the county stating "the city and the county skirted their own growth-management rules." The State believes "there is still enough land inside the development boundary for commercial growth." According to Mike McDaniel, chief of comprehensive planning, "There is no need for additional commercial land." Lowes vows to fight on.