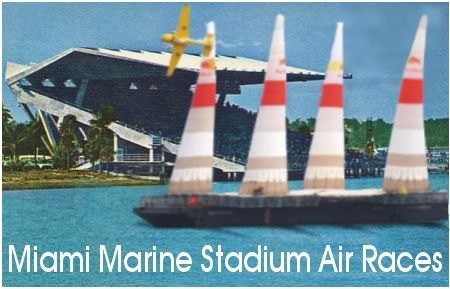 What's wrong with this picture? It's another figment of our fevered imagination. If any city in the world should have its own air races, it's Miami. London gets them over the Thames. Rio along the Copacabana. Perth over its harbor.
Thanks to
Red Bull
, even Istanbul, Budapest and
Abu
Dhabi
get air races. All over water.
But what do we get. We get
this
and a
five year old unfulfilled promise
from Miami mayor Manny
Diaz
to restore the Marine Stadium.
We are so unworthy.
UpDate (8/27/08):
The "experts," AKA city planners/consultants, came back with the latest designs for Virginia Key. Despite an earlier charette where the public overwhelmingly agreed that the Marine Stadium should be saved, it is glaringly absent from this latest iteration. In its place: Two 5-story parking garages, a "dry-stack" boat storage for 700 boats, 41,000sf of "small scale retail," and Olympic-sized swimming pools among other sundry items. The city and its experts have effectively destroyed one of the few things that makes Miami unique in the world and replaced it with the pedestrian. The Marine Stadium was the
only
one of its kind on the planet. Now, because it might be "cost prohibitive" to fix-up, we have become a lesser city, less unique, and a people less worthy of being taken seriously, at being looked upon by others as blessed, lucky, special and cool.
UpDate (9/19/08):
Friends of the Miami Marine Stadium
pulled off a major coup: they got the
World Monument Fund
to endorse saving the Marine Stadium. This couldn't have happened at a better time because The City of Miami Historic and Environmental Preservation Board will discuss and possibly make a determination of the final historic designation of the Miami Marine Stadium at their meeting on Tuesday, October 7, at 3:00 PM, City of Miami Commission Chambers. Failure to do so should make them look like idiots-- or at least suspiciously on the take. If you got the time, try to stop by to make your voice heard.
UpDate (10/7/08):
The City of Miami historic preservation board finally saw the light: by a vote of 8-0, it agreed to designate the Miami Marine Stadium worthy of preservation as an historic site. Let's see the visionless try to knock it down now!
Later today (it was a slow one and I was inspired by today's events) I sent this email to Red Bull:
Red Bull should consider bringing its Air Race to Miami-- and funding the restoration of the Miami Marine Stadium in exchange for naming rights, i.e., Red Bull Miami Marine and Air Stadium. I'm sure a deal could be arranged where Red Bull gets a piece of the action for all events held there-- and not just the annual air race. Please see my blog post on that topic at:
http://miamivisionblogarama.blogspot.com/2007/11/miami-marine-stadium-air-races.html
.

Thank you,
Vert