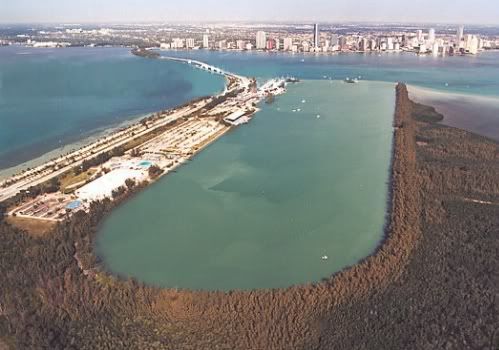 If you came to live in Miami after 1992's Hurricane Andrew and aren't a boater, you probably don't know this once wonderful vision still exists. Because of a report of stress cracks in its cantilevered concrete roof following that hurricane, the county shut down the public facility fearing the roof might collapse at any minute. Well, its been 14-years and, despite total abandonment, the roof is still there, a sad reminder of its glory days.
Designed by Miami based
Pancoast, Ferendino Spillis + Candela
, it opened in 1963 and was-- and still may be-- the largest unsupported concrete span in the world. That alone would have been worth the effort to repair the stadium. For all you "newcomers" and those who live someplace else here are some interesting tidbits on the stadium: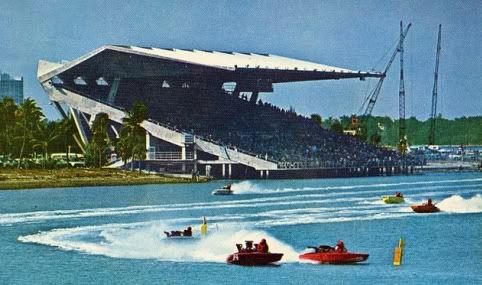 >The stadium was designed for hydroplane racing and it quickly became one of the most important venues on the circuit with the late great local Budweiser distributor Bernie Little winning race after race with his Miss Budweiser. By the time the stadium closed in 1992, hydroplanes were reaching 170mph. Now they have passed 220mph. Whether or not they can reach those speeds in this stadium course will never be known. As an aside, only one word can describe unlimited hydroplane racing at the stadium as the huge boats roared by: thrilling. If you never had a chance to see those unlimited races, to hear the roar of those jet turbines, to smell the salt air, and to feel the ocean breeze wafting up across Virginia Key on a sunny day, then you truly missed something. There was nothing like it in the world and there still isn't.
>1972: President Nixon made an appearance there with Sammy Davis, Jr.
>Jimmy Buffet, Tony Bennett, and a host of other entertainers and orchestras performed there on a floating stage for "moonlight concerts" in front of the stands. Boaters were allowed to drop anchor and watch from the water.
>1992: Declared unsafe after Hurricane Andrew.
>2002: Miami Mayor Manny
Diaz
promises to refurbish the Marine Stadium.
For fourteen-years it was neglected and left to decay by the county and city governments. In that time it has probably become the largest graffiti canvas in the world. There is hardly a surface not "tagged". It defines the word "trashed." The restroom facilities have been ransacked. To see it now and to remember what it once was makes you want to cry.
The initial structural report spoke of hairline fractures in the concrete roof and made the supposition that they may have been there before Hurricane Andrew. We're sure they are much worse now. If there had been someone around in government with enough vision, maybe it could have been repaired at a reasonable price. Now, the way construction costs have skyrocketed, the odds of ever seeing the stadium restored look slim to none.
It's been four years since Mayor
Diaz
promised to repair the stadium. We guess he forgot about it like so many others have. Too bad for all of us. As a community, it was something to be proud of , a unique thing to rally round and to enjoy. Maybe readers of this blog will get excited and want to remind Mayor
Diaz
about the diamond in the rough just a short boat ride from city hall. You can send him an email and other city officials by clicking
here
. In fact, you could remind
all
of our county and city officials about the Marine Stadium by clicking the links provided on
MVB's
homepage. Who knows, maybe one of them will want to save it. With a little vision, maybe money could be raised to fund the restoration by selling naming rights to the stadium. First one that comes to our mind: Budweiser.
UpDate

(4/18/08):
After a magazine article in the January 2008 edition of
Propeller
magazine, 10 posts on the subject, and one-and-a-half years after our first post, the Miami Herald reports today that "a coalition of architects, preservationists, activists, historians, rowers, boaters and plain
Miamians
who believe a restored and reactivated Marine Stadium would become an iconic landmark in a rejuvenating Miami" will be throwing a fundraiser this Saturday at the adjacent Miami Rowing Club. The event includes boat tours of the stadium. "The group, with the backing of the
Dade
Heritage Trust, will submit a study to the city's office of historic preservation next week requesting that the stadium be declared a historic structure." Even its architect, 73-year-old Hilario
Candela
, has emerged from 16-years of silence to back this endeavor. Maybe our consistent harangue was effective. We'd like to think so. We believe in getting "ideas out there" so they can effect change. That was one of the main reasons this blog was started. Hopefully the neglect won't make this new effort moot.
UpDate (8/27): The "experts," AKA city planners/consultants, came back with the latest designs for Virginia Key. Despite an earlier charette where the public overwhelmingly agreed that the Marine Stadium should be saved, it is glaringly absent from this latest iteration. In its place: Two 5-story parking garages, a "dry-stack" boat storage for 700 boats, 41,000sf of "small scale retail," and Olympic-sized swimming pools among other sundry items. The city and its experts have effectively destroyed one of the few things that makes Miami unique in the world and replaced it with the pedestrian. The Marine Stadium was the only one of its kind on the planet. Now, because it might be "cost prohibitive" to fix-up, we have become a lesser city, less unique, and a people less worthy of being taken seriously, at being looked upon by others as blessed, lucky, special and cool.

UpDate (9/19/08): Friends of the Miami Marine Stadium pulled off a major coup: they got the World Monuments Fund to endorse saving the Marine Stadium. This couldn't have happened at a better time because The City of Miami Historic and Environmental Preservation Board will discuss and possibly make a determination of the final historic designation of the Miami Marine Stadium at their meeting on Tuesday, October 7, at 3:00 PM, City of Miami Commission Chambers. Failure to do so should make them look like idiots-- or at least suspiciously on the take. If you got the time, try to stop by to make your voice heard.
UpDate (10/7/08): The City of Miami historic preservation board finally saw the light: by a vote of 8-0, it agreed to designate the Miami Marine Stadium worthy of preservation as an historic site. Let's see the visionless try to knock it down now!

UpDate (4/27/09): The Miami Marine Stadium becomes one of eleven buildings on the National Trust for Historic Preservation thanks in part to the efforts of Miami architect Jorge Hernandez and Friends of the Miami Marine Stadium. Let's see our visionless bureaucrats try to touch the old lady now.

UpDate (6/29/2012):

Click "Labels" below for more postings on this subject.