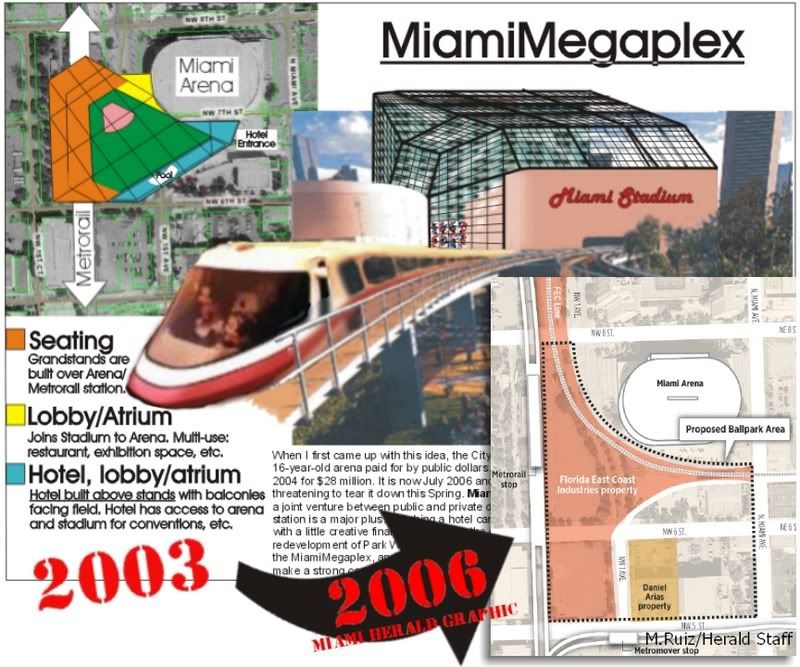 Our
MiamiMegaplex
idea has been bouncing around since 2003 and we are happy to see that by putting it freely up in the ether something might actually come of it. Today the Miami Herald ran a story about the proposed Marlins stadium (Glenn Straub, owner of the Arena is being sued by a developer who claims Straub is trying to back out of a contract to sell the Arena to him) that includes a graphic that looks suspiciously like our proposal.
And that's okay. Everyone from elected officials to Straub, the Miami Herald and Miami Today, MLB, and sports journalists from all media were apprised of this idea. Sometimes to get something, you have to give it away. Although it is not exactly like ours, it is so close to it that it is scary. Our plan of course saves the Arena by attaching it to the stadium
and
adding a hotel in the outfield. In this configuration, it splits the cost of building such a "megaplex" between the partners that may include MLB, Straub (if he retains ownership of the Arena), and a hotel chain. In so doing, it ensures year-round use of the stadium (tractor pulls, concerts, etc) plus it allows booking of bigger conventions which can spill out from the Arena into the enclosed stadium field. One of the unique parts of our plan is to attach the "megaplex" to the existing MetroRail line by building the stadium
over
the rail line to get the most out of a tight space. You can read more about our MiamiMegaplex concept at an earlier entry ("New Downtown Miami Baseball Stadium") or go to our blog's official website
http://www.miamivisionblogarama.com/
Once there, click the "MiamiMegaplex" button.
UpDate (7/27/08): Glenn Straub, owner of the Miami Arena, announces he will tear it down to build a baseball stadium-- if he can strike a deal with the City of Miami and the Florida Marlins. Part of the deal he wants is to gain title to the Orange Bowl site (now torn down) to build affordable housing. Initial reaction from the Marlins and the city: not interested. Typical. And surprising since at one time the Marlins insisted on a downtown site.