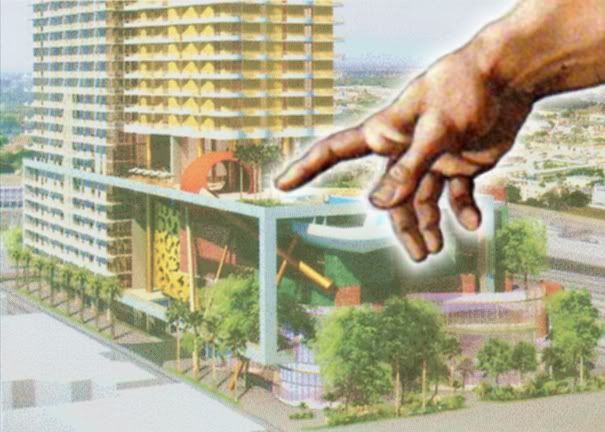 Enhance your blogging pleasure: Push the button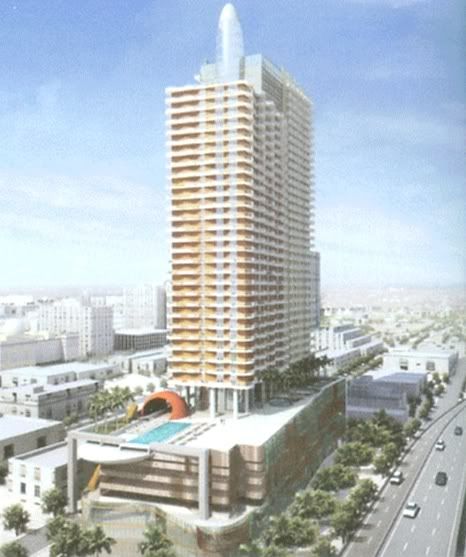 .*
Like Eastwood's iconic nameless cowboy, there is a Miami building on the drawing boards with no name too. Equally enigmatic and dangerously charismatic, it's the product of another Miami architectural firm that shoots from the hip disrupting the status quo with dead eye accuracy on art's primo credo: Don't bore me, show me something new, make me see something in a whole new way. Few artists can pull that off. Most are imitative. Few are worthy. The
Touzet Studio
is one of the worthiest. Designed by the husband and wife team of
Jacqueline Gonzalez-Touzet
and
Carlos Prio-Touzet
, the building, located at 111 N.E. 11th Street just south of I-395 and behind the 67-story
Marquis
now under construction, will have twin towers rising 42 and 38-stories over ground floor retail. Although it may fall in the morning shadows of the giants rising a block east on Biscayne Boulevard, it will never be overshadowed by them because of its whimsical shapes, brave use of color, and daring use of space.
Things I like about it:
The glass nose cone at the top of the taller building. Very Jetsons. If I were a loser mortal, that'd be my pad.
The angled five-story pock-marked wall painted with huge leopard spots. Oh, how I love leopard prints and neon (hope it's got that too!) This is a fitting gesture toward its location: Miami's designated nightclub district.
Huge columns thrown helter-skelter about the base as if by a giant playing with his pick-up sticks-- something I can relate to.
A sundeck perched precariously over the street that serves as a grotto to collect the waterfall from the infinity pool above.
Use of materials that will change color and give the building the appearance of motion to those driving by.
Word on the street is that it may even be affordable. Only time will tell. Ah, just thinking about it brings a smile to my face.
*Any excuse to listen to some Morricone is a good enough reason to push the button.
Other posts by A.G.:
It's Okay to Play In The Street
,
COR is CUTE!
,
Gehry Sucks Big Time
.