The Miami Herald reports today that we are not the only people with a set of commissioners that give politics a bad name. Seems the Key West commission has turned down $750,000 worth of
J. Seward Johnson
art because (I'm not making this up) it would take up too much souvenir selling space on the sidewalk.
Maybe for some of those Key West commissioners there's just too many Johnsons being exposed in public. Even though this particular donation is life-sized, family friendly and politically correct (it's called
New Friends
and depicts five adults and two kids of different ethnicity), the town already has a 22-foot Johnson on display at the Custom House entrance.
The 76-year-old Johnson has sold over $30 million worth of his sculptures all over the world. Museums, cities, and private collectors love and respect his work but he can't give it away to his adopted city for reasons we thought were something only
our
elected officials could come up with. Described as "feisty", the heir to the Johnson & Johnson pharmaceutical fortune, is my kind kind of guy. After getting canned by an uncle at the family business, Johnson started sculpting. My favorite is called "
Unconditional Surrender
." At 26-feet, that painted bronze baby would look good on Biscayne Boulevard, maybe at the entrance to the Port of Miami. You can learn more about it through an earlier post found
here
. And, unlike art critics who may consider his works "hokey," he's no snob when it comes to art. He embraces sculptors across a broad spectrum of style and has established the critically acclaimed
Grounds for Sculpture
, a museum and sculpture garden that once was part of the New Jersey State Faigrounds, to display their works.
Besides his realist approach, I particularly like his monumental works, a scale I'd like to see brought to Miami. Except for the
Botero
at One Miami, our city has a dearth of monumental human form public sculpture. I believe that such art acts as subtle reminders of our devine design and that we are worthy of big dreams, as big as the heroic representations of ourselves scattered about our best urban core landscapes. I like to think of them as "Super Sized Fast Food for the Soul." And, although Johnson is a realist scuptor, there's plenty of room in my world for the super sized abstract works of
William King
and others.
Mr. Johnson has a giant "Icon" series that I'd like to see scattered around downtown. His "
Forever Marilyn
" is sensual and full of life and would look great straddling Biscayne Boulevard and welcoming drivers to Miami and the Carnival Center. For something a little less expensive, how 'bout a giant Elvis on the Miami Dade County Government Center building facing I-95?
We believe a delegation from the city and the county ought to get down there and suck up to Johnson big time to rescue "
New Friends
" for ourselves before those Key West commissioners come to their senses. Hell, the man has enough money he could
buy
our new Bicentennial Park art museum and establish a sculpture garden that breaks out of the museum landscape and runs roughshod through downtown. Of course, that means the art snobs on the museum board would have to come around to considering him worthy. But I'm sure if Terence Riley says it's okay to like the guy, his
sychophantic board of directors
will too.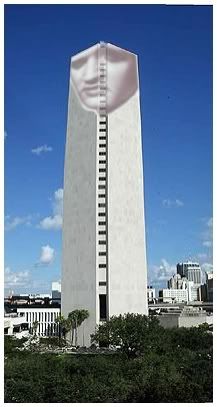 In the Herald article, Johnson doesn't let it bother him too much that the city has rejected his free gift and is quoted as saying that part of the reason he moved to Key West was because he loves the city's "dysfunctionality."
Well, hell, Mr. Johnson, if you want "dysfunctionality," you picked the wrong city. We got the Conch Republic beat by a country mile. In fact, we have twice as much dysfunctionality going for us what with two commissions "representing" the county and the city. Of course, we can't guarantee you won't get the same kind of cool reception for your art-- unless, of course one of the
"New Friends
" happens to be Cuban. Oh, wait a minute. You gotta have at least one black in the group. And God forbid you failed to include a woman. It would help too if at least one of the figures
appears
to be gay hopefully without resorting to any cliched stereotypes. If you failed in one or more of the above there's still a chance in getting your art accepted: Are any of the "
New Friends
" handicapped? If so, you've got it made in the shade. Disabilities trump everything. Even the most callous commissioner knows better than to throw a roadblock in front of a wheelchair.
Lincoln Basel
MVB Art Critic