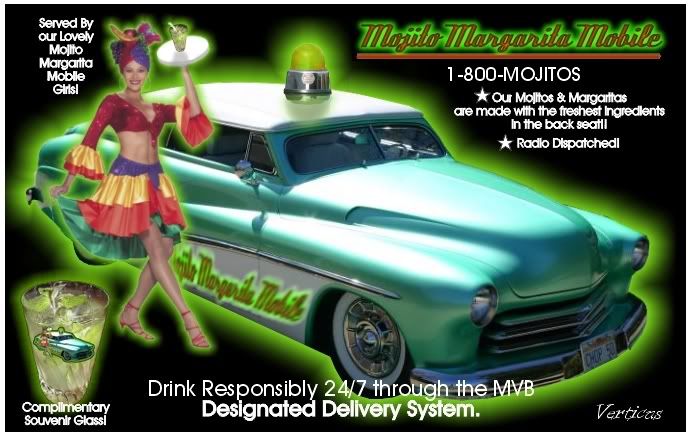 Click picture to enlarge.
In a follow-up story in the Miami Herald yesterday regarding the economic effect the Super Bowl had on the local Miami Beach economy, it mentioned that local retail and especially restaurants took a hit because their loyal clientele were afraid of venturing onto the island because of increased traffic. However, the thing that caught our eye was a restauranteur recalling a phone call from a distressed regular who asked if they could deliver a mojito. They couldn't but that got us to thinking...
MVB will soon launch our
Mojito Margarita Mobile Designated Delivery System
for people stuck at home or short on time, skill, and the ingredients needed to make Hemingway's and MVB's favorite drink
plus
a wide selection of frozen Margaritas. Currently our '50 Merc lead sled is being retrofitted for a blender and bar in the back seat. The vintage rotating Police beacon is proving to be a little harder to come by, but we shall persevere for this great cause. Drinks will be delivered by teams of two Mojito Margarita girls who will share mixing and driving skills. Employment interviews are scheduled in the near future. MVB is looking for outgoing women who can sing the following ditty to the music (press button below for music) of the
Chiquita Banana
song while mixing a damn good mojito:
Hello, Amigos, I'm Mojito Margarita and I've come to say
Mojitos and Margaritas are a phone call away
24/7 at 1-800-M-O-J-I-T-O-S
We're radio dispatched to your address
So you never have to make a mess!
We'll drive so you can drink and drink!
The cops can't throw you in the clink-a
When you've got Mojito Margarita
Now here's your mojito (margarita) and it's time to pay
For a nice tip I'll shimmy and shout, "¡Oye!
Muchas gracias, now I'm on my way-ya!"