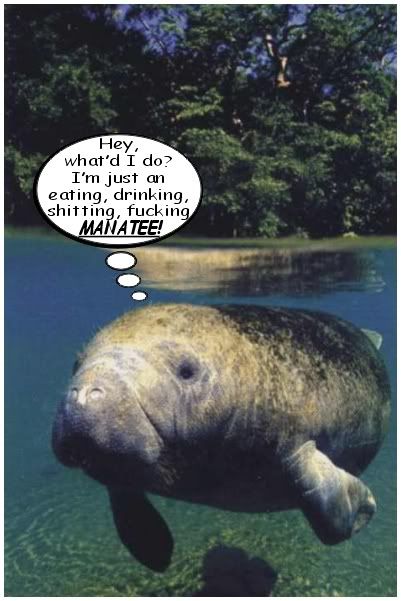 This is a "heads up"-- or maybe it should be a "heads down!" to all manatees reading this blog. Through some slick maneuvering of a rule that keeps commissioners from chairing the same committee for more than two consecutive years, your nemesis Commissioner Natacha
"I want my water-- and apparently yours too"
Seijas is back chairing the committee that supposedly looks out for you. And "look out" are the operative words here, my corpulent aquatic vegetarian. Of course you know she is famous for dissing your kind wondering out loud on the dais why you're even necessary. So, you may be asking, how did she circumvent the rules? Just change the name of the committee. Once it was known as "Land Use and Infrastructure Committee." Now it's called the "Governmental Operations and Environment Committee." So be careful my obese friend because for some reason she has it in for you. Maybe it had something to do with an unhappy childhood encounter with one of your kind while swimming in the canal behind her house. Who knows? Who can explain how the Seijas mind works. Just remember this: You might be cute to some, but for others like Seijas they believe, to paraphrase Randy Newman, short people and manatees got no business living.