It's been a long time, probably not since the mid-seventies, but legal drag racing is returning to Miami. This Sunday, you can race your car on an old runway at Opa Locka West Airport. It will cost you $20.00 to race, $10.00 to watch. MVB thinks this is a great idea and applaud the guy who came up with it. If nothing else, it will probably make our streets safer.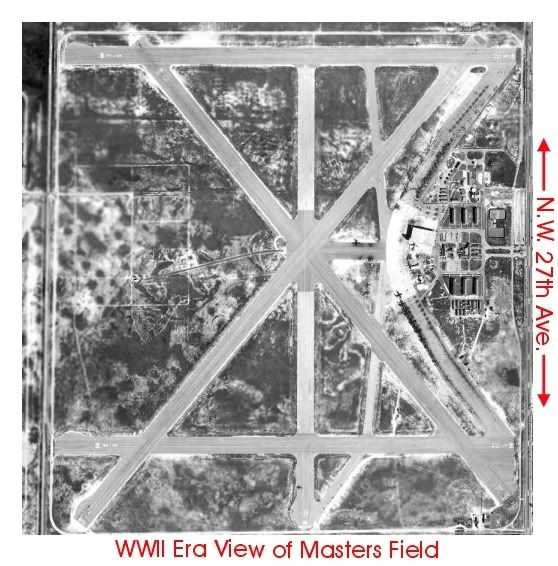 Once upon a time, when Verticus was a teenager, he use to race his chariot at a strip north west of Miami Dade College's north campus. For those who aren't aware of it, the north campus was built
over
an old Navy airfield called Master's Field. You can see the runways gradually disappearing over the years in these aerial photos. Believe it or not, you can still find them-- the south parking lot is basically an old runway.
The drag strip had bleachers on one side of an open field with a runway and a "Christmas tree" timing light and not much else-- including built-in safety devices. I remember some guy brought out a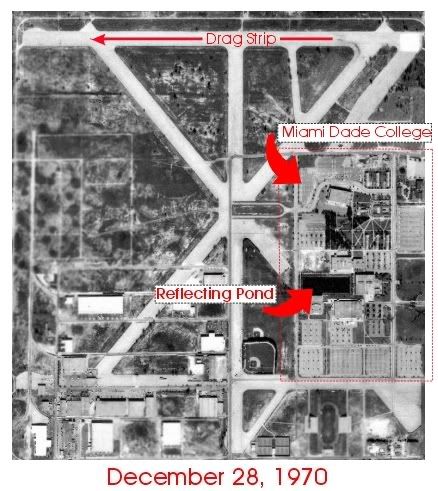 slingshot dragster that after crossing the finish line couldn't stop because it had lost its brakes and its parachute. All the poor driver could do was ride it out-- over the runway, across hip-high grass, smashing through a chain link fence and finally crashing into railroad tracks. He survived, no one ever died out there-- just like the ghosts of all those bright, sunshine filled memories.
You can visit the track's website
here
.