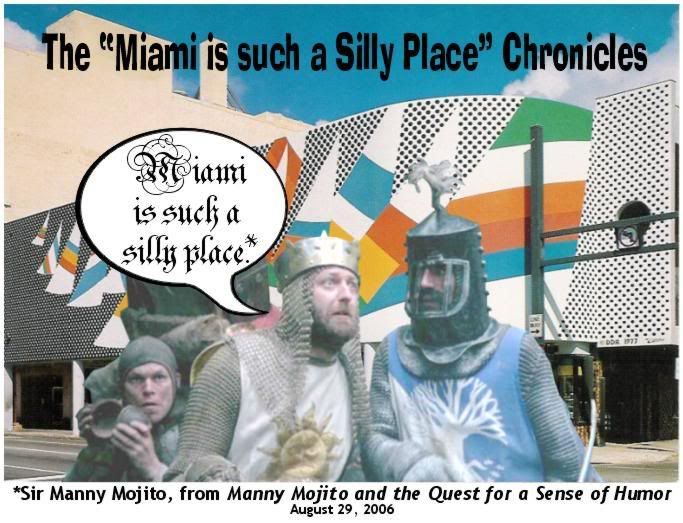 The Miami Herald, the city's only daily newspaper, is undergoing a cultural and ethics war from within. It officially began some weeks ago when Publisher Jesus Diaz Jr fired a handful of sister publication El Nuevo Herald writers for a breach of ethics by accepting payment for speaking and writing for Radio Marti, a Fed sponsored "propagaganda" tool aimed at broadcasting news and entertainment to Cubans (in Cuba). This, of course, opened up the floodgates for the easily offended local Cuban radio stations to lambaste Diaz for his decision. Within days nearly 2,000 Herald subscriptions were canceled. Yikes! That hurts because the paper is continuing to lose readership and advertising revenue at a time when its new owner, the McClatchy Co., is trying to resuscitate it. This week, before Diaz quit, he reinstated the El Nuevo journalists when it was discovered that some bigwigs at the Herald were aware of their work with Radio Marti. New, "clearer" rules are being written up as you read this to prevent such misunderstandings in the future.
Regarding Diaz's resignation, officially, it's because he has high standards. Unofficially, it's probably because he 1) Offended the biggest ethnic population in Miami, 2) Butted heads with prized columnist Carl Hiaasen and lost (Diaz didn't want to run a Hiaasen column he thought might stir up the population even more and Hiaasen called McClatchy corporate in California threatening to quit) and, 3) Made the paper lose money.
Today the paper reveals that many in the "English-language newsroom" (The Miami Herald) are upset because they think the rules were bent to allow the El Nuevo Herald journalists to return. Many at El Nuevo Herald are unhappy because their colleagues were "fired in the first place and their reputations demeaned."
Oh, oh, we can hear the lawyers beating down the doors at McClatchy to sue them for just that: defamation of character. We're sure the new owners of the Herald didn't have a clue about what they were getting themselves into. Now, instead of hoping to make the paper a moneymaker, they will probably face a multi-million dollar lawsuit.
But wait, it gets worse. El Nuevo Herald reporter Rui Ferreira is quoted as telling Diaz's replacement, David Landsberg, that "We are at war between the two newsrooms."
And, in a Letter to the Editor in today's Herald, Ruben Soto "does not accept that a non-Hispanic is now heading both editions...Even though publisher David Landsberg grew up in Miami, this does not make him an expert on Cuban-American or Hispanic issues. You have to have the heart and feel what it's like to be a Hispanic in Miami in order to make the newspaper successful...This warrants another protest from the local Hispanic community. The Miami Herald's new owners don't understand our unique culture."
Soto is right about that. McClatchy didn't know what they were buying in to. We're sure the easily offended are lining up now and preparing to march up and down Calle Ocho in protest.
Regarding the new publisher David Landsberg. The guy was born in Baptist Hospital, went to Coral Gables High, and graduated from the University of Florida with a degree in business administration and started working for the paper immediately. He rose in the ranks and became chief financial officer from 1996-1999 and vice president of advertising. Then-publisher Alberto Ibarguen says, " That was a department in disarray. It had like five vice presidents in seven years. He brought it around by doing basic things. It just wasn't rocket science."
What we love is the follow-up sentence in the story:
Landsberg learned why ads were valuable...
It's funnier than you think. Nearly twenty years ago before publishing "The Rodney Dangerfield of Blogs," Verticus Erectus ran an advertising agency that placed movie ads for major studios. At one time, the studios were running full page Friday opening day ads which easily cost more than $25,000.00 back then. And then the Herald took a poll. They asked their readers how they liked their Friday entertainment section. According to the paper, they learned that their loyal readers wanted a tabloid. So, somewhere in the late 80's or early 90's (Verticus can't remember what decade it happened since he has a hard enough time remembering where he put his keys), the paper switched to a Friday tabloid. In so doing, they basically shot themselves in the financial foot. Instead of getting full page ads that were as big as 125", they were now getting full page ads that were only 65" at best. But, and this is a big but, the studios placed ads based on a "percentage of a page" based on the size of its readership. So, instead of getting say, a half page ad which would have been around 65", they were now getting 31.5" ads. Advertising placement dropped drastically. Mr. Erectus went to the paper and complained that the policy was hurting his profit margins. They didn't care because he was told the paper "isn't advertising driven." Editorial and what its readers want is more important. Mr. Erectus estimates that since then, from just one major movie studio alone, the paper has lost millions of dollars in an effort to keep its dwindling readers happy. He has also always wondered, if a Friday entertainment tabloid kept its readers happy, why not extend that happiness throughout the week and make the whole paper a tabloid? Who knows, maybe McClatchy is working on just that.