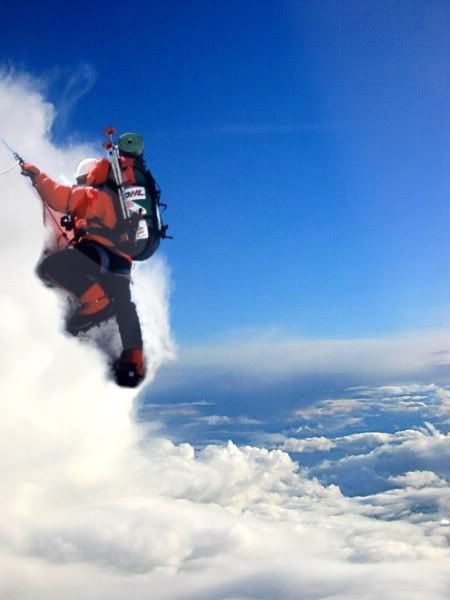 Afraid to open your mouth anymore in Miami? Worried that you might offend the hypersensitive who live there? Get away from it all by leaving the sunbaked nutcases far below with their obsession with Miami-style political correctness by becoming a "cloud climber."
Our resident cloud climbing expert Eddie "Hilarious" Hillary has been climbing clouds for years, beginning as far back as the 1980 Miami riots. While people were being murdered in the streets willy-nilly, Eddie was blissfully unaware of it all, thirty-five thousand feet above the mayhem in the clouds.
"Most people don't know that Florida-- and especially Miami," he said in a recent interview from a hanger at Tamiami airport, "has the largest mountain range in the world with peaks that consistently dwarf Everest by as much as 10,000 feet. The Cumulonimbus Range is much more exciting, however, than the Himalayans. The CR is constantly moving and changing. You never know what will be rising on the horizon each day. The best time for climbing these shape-shifters is in the afternoon if you want the complete roller coaster experience of 50-mph+ updrafts to heights of 39,000 feet or more. Plus, for all of those adrenaline junkies out there, nothing beats hanging onto a cloud when it suddenly becomes a thunder storm. You haven't lived until you've had speed limit hail smack you up side the head when you're holding on to a windblown cloud by one hand. And lightning? Fogedabouit! I learned a long time ago never to climb with any metal objects on me. All of my cloud climbing gear is made out of Kevlar. You'd be surprised how the smallest amounts of metal will conduct electricity-- but after a lightning bolt zeros in on your zipper, you'll never forget your Velcro fly pants again."
As Eddie winced and groped himself while looking longingly into the clouds above, MVB asked: "Is thunder a problem?"
"What?"
"IS THUNDER A PROBLEM?" we shouted.
"I'm sorry, I can't hear you," he replied. "I'm a little deaf. If you've climbed clouds as long as I have, it comes with the territory. Trust me, you don't know what thunder is until one of those clouds explodes next to you. That's why I wear industrial quality headphones every time I climb. Once you get rid of the metal, the Bose sound canceling phones are the best even though they might be a little bulky to wear-- but hey, we're talking about our hearing here. Right?"
"RIGHT," we shouted back. "SO, EDDIE, DO YOU REMEMBER PROMISING TO DEMONSTRATE CLOUD CLIMBING FOR OUR READERS."
"For sure, Verticus Dudecus. That's why you're here today. The DPs are back, man! I've been trying to climb the fabled and elusive DP twin peaks of the CR since the first time I saw them in 1997."
"THE 'DP TWIN PEAKS'?"
"Yeah, the Dolly Parton ba-ba-ba-zoomies of summer. We call them the D1 and D2s for short. I checked this morning's weather report with "The Weather Station's" own ba-ba-ba-zoomie weathergirl Elita Loresca-- our sport's Patron Saint of Cloud Climbing-- and she predicted favorable conditions this afternoon for exactly these kind of rare cumulonimbus bra-busters. Here," he said, while thrusting a 8-by-10-glossy into our hands, "this is me in 1997 when I first spotted them over Opa Locka."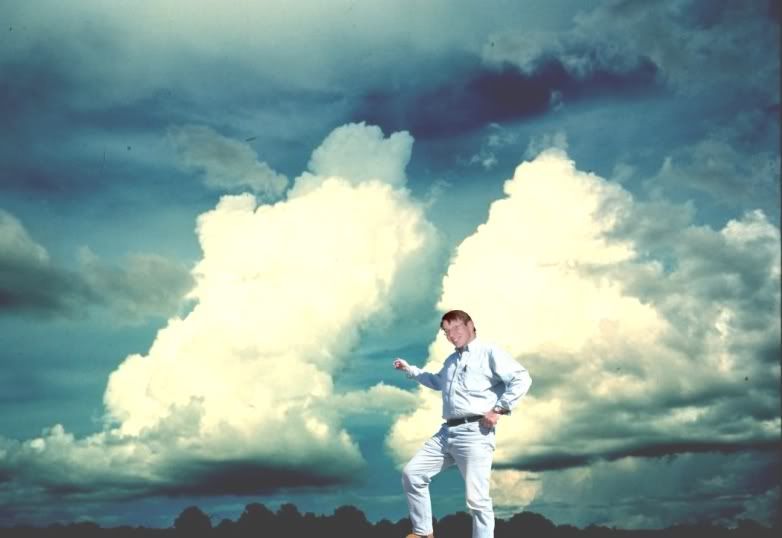 "THEY'RE QUITE IMPRESSIVE!"
"Damn right they are. I've been looking for them ever since."
"SO, HOW DOES ONE GET ON A CLOUD?"
"Very carefully," he drawled, loving the moment for as long as we would let him.
"FUNNY!" we quickly replied. We had things to do. "SO, ARE YOU GOING TO SHOW US OR WHAT?"
"Well, first off, like any extreme sport, it's best not to do it alone. Say hello to my leetle frein. Jose, come over here."
We turned and saw what appeared to be our Mayan gardener walking toward us out of the shadows of the hanger. He was wearing a parachute rig as big as he was and his head was leaning to one side, struggling to hold up the video camera mounted on the helmet.
"Say hello to Jose Sirrius."
"ARE YOU SERIOUS?"
"Si."
He extended his little brown hand and we shook it.
"Jose is documenting me perfecting my chuteless jump style."
"YOUR 'CHUTELESS JUMP STYLE'?"
"Yeah, man, it's the only way to jump onto a cloud. Talk about feeling free."
"YOU MUST BE NUTS!"
"So I've been told but I ain't that Loony Tunes. I've got little Jose here to save my wind-whipped ass if anything goes wrong."
We looked down at Jose and he tried to smile. He reminded us of Tattoo from "Fantasy Island." But a little taller. We wondered if he could save anybody, much less someone hurtling toward the earth at over 125-mph.
"He's gonna take the pictures for you."
With that, Eddie grabbed his metal-free climbing gear and headed out towards something called a PAC 750XL, a propeller driven airplane with no side door. Within minutes, we were climbing toward the famous D1 and 2s and freezing our asses off.
Slapping ourselves to keep warm, we shouted over the roar of the engine and the hurricane force winds screaming outside the door: "HOW HIGH ARE WE?"
"WE'RE CLOSING IN ON 20,000 FEET!" Eddie shouted back. "CAN'T GET ANY HIGHER THAN THAT IN THIS KIND OF PLANE. THAT'S ONLY HALF WAY UP DOLLY'S TITS!" he joked. "BUT IF I'M LUCKY AND GET A FEW UPDRAFTS, I'LL BE COPPING A FEEL AT 40,000 FEET BEFORE YOU KNOW IT!"
A thought struck Eddie and made him sit up straight. He turned to Jose and shouted, "WHOE, LITTLE BUDDY, DID YOU PACK MY OXYGEN MASK?"
Jose smiled and nodded.
Eddie smiled and stuck his fist out so Jose could hit the top of it. Jose just kept nodding his head and smiling. "NO, LITTLE DUDE, YOU GOTTA HIT THE TOP OF MY FIST LIKE THIS."
Eddie took Jose's hand, balled it up into a fist and bounced it against the top of his fist.
"THAT'S RIGHT," he shouted encouragingly.
We turned to look out the window and saw our reflection. We exchanged knowing, anxious glances and saw a trembling smile spreading slowly across the glass as we began to have second thoughts about this whole undertaking .
"BESIDES FORGETTING YOUR OXYGEN MASK," Eddie continued, "THE LAST THING YOU WANNA DO IS MISS THE CLOUD. RIGHT, JOSE?" Eddie elbowed Jose and the two exchanged what appeared to be certifiable smiles.
We swallowed hard and tightened our seatbelts as they edged closer to the open door. From what we could figure out, Eddie was planning on throwing his climbing pack out the door and then jumping after it-- without a chute. Oh, yeah, it also appeared that they couldn't communicate worth a damn. And it had nothing to do with the infernal racket reverberating all around us. The guys couldn't speak each other's language. This is bad juju whether you're standing on solid Miami terra firma or flying 20,000 feet above it. At that point we decided to cancel the demonstration but we were too late. Without any warning-- not even a "One, Two, Three"-- Eddie threw out his climbing pack and followed it out the door. As it turned out, even little Jose didn't expect it. He was nodding his head and looking at us with an uncomprehending smile when we shouted and pointed at the door. When he turned and saw Eddie was missing, he fell backward as shocked as we were. He looked like a beetle that had been knocked onto its back and couldn't right itself. The parachute assembly and camera mount were holding him down. We unbuckled our seatbelts, helped him to his feet, and threw him out the door. Hearing his wussy scream trail after him was not a good omen. Still, as it was discovered later, the little undocumented alien (now on the run) was able to get a great shot of Eddie closing in on the twin peaks (see photo).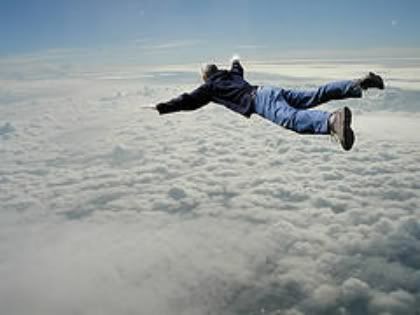 Unfortunately, we are deeply saddened to report that Eddie "Hilarious" Hillary missed his objective. From what we can tell, Jose thought Eddie was supposed to go left but he went right instead-- right past the always beckoning, never attainable, deliriously elusive, 40-thousand-foot D Cups of the legendary twin peaks of the CR. All we have of our crazy, mixed-up friend is the last picture Jose took of him living life the only way he knew how: fearlessly and without any common sense. Eddie's in the center of that hole in the cloud (see arrow). If you close your eyes, and think real hard, you'll be able to see him waving back up at you shouting with glee as he reinacts the favorite scene from his most favorite movie of all time: "Dr. Strangelove." Yes, that's Eddie, slapping the bomb with his cowboy hat and shouting for all he's worth as he zeros in on the center of the Miami Circle:
"YOU LITTLE MEXICAN DICK WAD, I SAID 'RIGHT'!"
Which reminds us of the importance of being able to communicate with each other as Miamians; be it from high above God's green earth, or on the streets of our fair burg, we really
need
to get on the same language page. Sometimes, as you can see from this cautionary tale, it could mean life or death-- for us and our beloved city.
Memorial Services will be held Monday, October 9th at 11:00am at Van Orsdel Funeral Chapels, 3333 N.E. 2nd Ave. In lieu of flowers, Eddie's sole surviving family member, his little brother and world-famous stunt man Harley "Hocky Puck" Hillary, has asked that donations be given in his brother's name to the
Minuteman Civil Defense Corps Border Fence Project.
With special permission from the county commission, burial will be held at 1:00pm in the center of the Miami Circle followed by an open bar reception at
Tobacco Road
with live music by the
Dixie Dawgs Unleashed
.