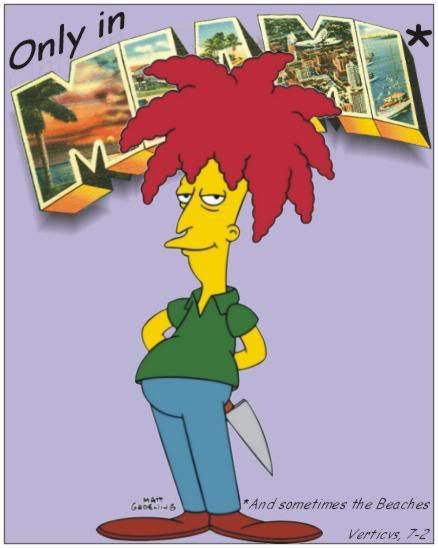 I was sitting at a table along the window of the
Dunkin
' Donuts on Alton Road and 16
th
minding my own business and enjoying one of the great inventions of the world, the Number Four, the croissant breakfast sandwich served 24/7, and a coffee. It's a great place to catch your breath and to watch the human parade pass by, especially the women of
SoBe
, many of whom give you reason to go on. As I was looking at my Number Four, admiring the wonderful combination of egg, sausage, cheese, and dough, I sensed someone else was also taking time to appreciate my sandwich. I looked out the window, and there beside me stood "Sideshow Bob." Except this one was darker and homeless. His unkempt fro was so huge I choked on my Number Four. I tried to ignore him but he wouldn't go away. Unlike fellow blogger Xavier of the equally wonderful
BoB
site who would have gotten up and offered him money, the keys to his car, and a place to stay, I, like the few diners there that morning, tried to pretend he wasn't there. But he was. Staring, not bothering anybody. And then, when you just thought you couldn't find another place to look, to pretend Sideshow Bob wasn't standing outside your window, it happened. A gust of wind caught Sideshow Bob's fro and...blew it off.
Sideshow Bob was an impostor. His fro was bogus! The man was wearing a cheap (but very big)
...

wig!
The Dunkin' Donuts diners tittered. Sideshow Bob at first seemed to be unaware that he had lost his retro plumage and stood there lusting after my Number Four. Slowly, ever so slowly, he did what few of us could do in such an awkward situation: he nonchalantly and with equal aplomb, stepped back, picked it up and put it back on without missing a beat before going on his way.
The young guy with the impossibly tall Junoesque model most dweebs can only hope to see in the latest Ocean Drive remarked to everyone that he has to remind himself to stop taking the window seats. I told him as I admiringly watched Sideshow Bob (instead of the model which, unfortunately, says a lot about me) walk south toward Starbucks that hey, those are the best seats in this house called life: up close and personal with only a thin sheet of glass and air-conditioning to separate and to insulate you from the cartoon characters in the absurdest play known as SoBe. And then, once it appears safe or dangerous, depending on what rocks your boat, you can either go out and play with them or remain safely ensconced with your cup of coffee with cream and sugar and your truly amazing Number Four.