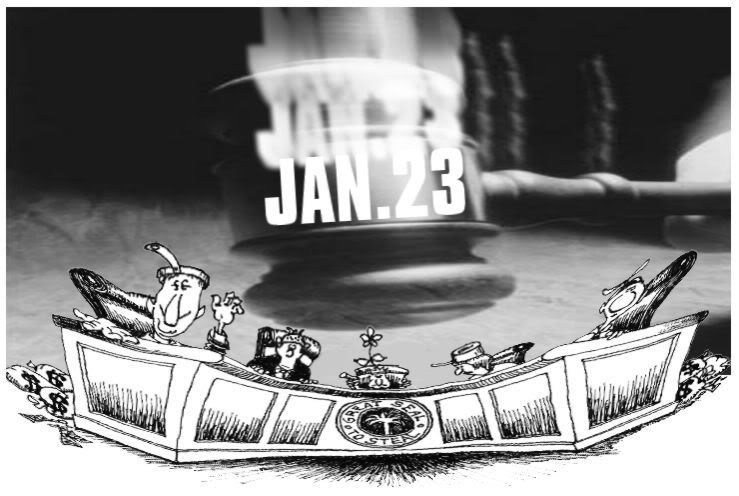 Remember that date. Everything after it will be forever changed if you live in Miami-Dade County. At least until the next referendum. Until then, give county Mayor Carlos Alverez's government tweaking a chance to work by voting FOR his STRONG MAYOR proposal on JANUARY 23rd.
Despite numerous attempts by the majority of the county commission to block the public's right to vote on it which included paying outside attorneys large amounts of our tax dollars to fight it in the courts, commissioners reluctantly accepted the fact that they can't win and voted yesterday to allow the election to proceed on January 23rd-- one day before the county charter
required
it be held. For those who can't wait to "clean house," early voting begins January 8th.
Unfortunately, the commission also elected a new chairman whose main objective seems to be campaigning against it. According to the Miami Herald, commissioner Bruno Barreiro said, "We have to go out there and work it," regarding "a campaign to defeat the strong-mayor referendum. 'I've campaigned in the trenches-- some people say I like that better than actually legislating.'"
Beautiful. Instead of performing his sworn duties, this guy is going to focus on convincing the public to vote against the proposal. Worst yet, he is quoted as saying that he is considering putting "resources into it from public funds or raise the dollars privately" to mount the campaign against it.
Using
public
funds to campaign against a government initiated legally decreed right to vote? Talk about an insensitive public official disconnected from grasping the American concept of fair play. No wonder we're considered by many to be a Third World enclave in the most advanced civilization in the world. For adding to that perception and for refusing to play fair at the public's expense, the new chairman of the county commission gets his second MVB "Poopy Head" hat.
If this kind of "in your face" BS makes you as crazy as it does us, MVB urges you to pull a "Howard Beale" by going to the polls and announcing to the world with your vote that "you are mad as hell and aren't going to take it anymore!"
For those who would like to thwart chairman Barreiro's efforts by actually working against him, check out
Citizens 4 Reform
.
UpDate (12/1):
Join County Mayor Carlos Alverez and others TOMORROW (Saturday) at the grand opening of the Citizens 4 Reform campaign office in Hialeah. Time: 1pm Address: 3800 West 12th Ave., #3. Phone: 786-282-8333.