Well, it's already started. 24-hour hurricane coverage on local Miami TV. At this time, Ernesto is still a tropical storm somewhere over Cuba for crisesakes. They can't even wait until it turns into a full-fledged hurricane before they trot out their latest technological gizmos to show us how it looks in 3D. Television as we once knew it has been preempted for the latest news on some guy buying plywood in Home Depot. WPLG, the local ABC affiliate, cut Charlie Gibson off at the knees.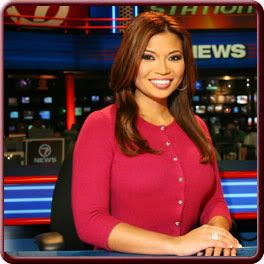 We never got to see the national news because it was much more important to see how people were behaving in Key West (they were drinking). Some call this the "Mean Season." To MVB, it's the "Slice and Dicey Season." Why? When local TV starts covering hurricanes ad infinitum, after a while, you just want to walk into the kitchen, pull out a knife and end it all. Whether you do it or not is the "dicey" part: it depends if WSVN-Fox's Elita Loresca is giving the update. She's worth hanging around for.*
*Please note that MVB apologizes in advance if we offended any women or men who took offense at our "objectifying" women. If we did-- and we are not so sure we did-- this is the first time and we feel very ashamed but sometimes a stronger primeval urge still calls to us across the broad landscape of political correctness and, despite our best efforts, we just can't say "no" to a good, albeit shallow, joke. As a group of men, we need to be spanked. If there were any women working here, we would at least have offered up a worthy weather
man
, but there aren't, so there. It is also with great regret that we ran the top photo of the weatherman with a boner for the weather. Please forgive us.