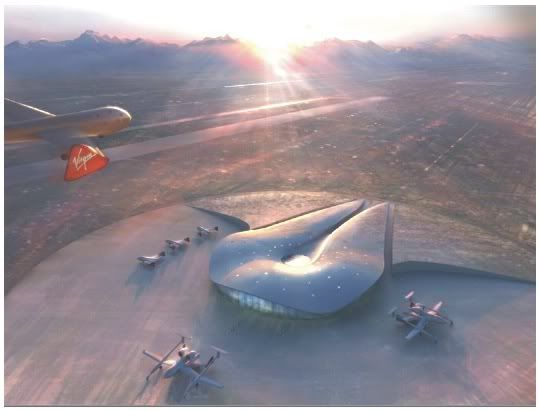 Well, New Mexico is proceeding with the world's first civilian spaceport as Florida sits idly by and allows that upstart little state to usurp our rightful place in history. Recently
Spaceport America
selected the architectural firm of
URS/Foster + Partners
to design the main terminal and hanger building in that state's godforsaken desert (follow the link to some amazing conceptual images right out of the future). MVB has been
advocating
from nearly the first day of its inception to use south Florida's existing infrastructure to get the jump on those pesky New Mexicans. The
Virgin Galactic
approach to spaceflight involves taking off and landing on a runway two miles long. We have one 35 miles west of Miami smack dab in the middle of the Everglades. It's been sitting idle since Congress killed the U.S. supersonic passenger jet program in the mid-seventies (the runway once known as the "Jetport" was built out there to diminish the impact of the sound of the jet engines which experts feared would create quality of life issues). Only one person in government showed any interest in the site. That guy, under former Governor Bush, was given the job of getting a civilian spaceport off the ground. In his email back to us he said he never knew the runway existed and wanted more info. We sent him a picture of it and its history. Never heard from him after that. But at least we tried.
In the same press release, it was also announced that Northrop Grumman Corp has invested "100 percent" in Burt Rutan's Scaled Composites which designs and constructs the spaceship. That investment of money and brains can only help speed up the arrival of the day when ordinary-- albeit rich-- people will be able to fly into space on a daily basis. Oh, yeah, we were also informed that
Sharaf Travel
in Dubai has been designated the world's first travel agency specializing in spaceflight for the masses. Oh,
please!

Still, it may not be too late for Florida to reclaim its destiny with the cosmos because, believe it or not, Scaled Composites has some competition. The Paris based European company
EADS Astrium
is developing a much simpler approach to getting people into space and maybe, just maybe, a state or local governmental official with just a little vision might want to offer our nearly forgotten artifact of past visionaries as a future testing site and spaceport. Not having to construct a two mile long runway will save EADS Astrium millions and effectively advance their program along at a much more rapid pace.