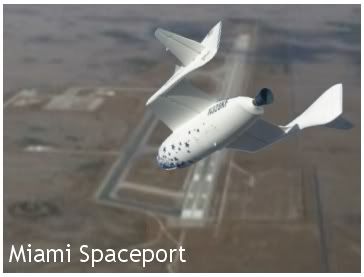 New Mexico: Voters approved a tax this month to support building the world's first civilian spaceport.
Florida: Nothing.
Which is hard to understand since it will cost New Mexico a couple hundred million dollars to construct a spaceport which requires runways of 10,000 feet or more. Florida already has such a beast just 35 miles west of Miami smack dab in the middle of the Everglades. It's the leftover remains of the Super Sonic Transport (SST) dreams of the seventies. Miami started building what was to be a "Jetport" (see picture) to accommodate the
SST's
when Congress nixed the idea because it feared the jets would harm the environment. Now it's only being used for emergency landings and occasional touch-and-goes. You can find it on Google Earth by typing in it's official name: Dade-Collier Training Airport.
MVB
contacted our new governor Charlie Crist just after he came into office. No response. We call it "getting Rodney
Dangerfielded
" but, hey, we're use to it. At least Bush's point man on finding a suitable location for a Florida civilian spaceport got back. He had never heard of the Jetport and was surprised it even existed. So it goes.
UpDate
(4/21/07): According to the latest Virgin Galactic newsletter, Florida/Miami may have already lost its chance at immortality. The New Mexican Las Cruces venture is called
Spaceport America
. Not to be left behind, we also discover in the newsletter that Virgin Galactic signed an agreement with Sweden to build
Spaceport Sweden
. Located at Kiruna, a town in Sweden's northern wilderness, this would be the first spaceport outside the United States to be used by Virgin Galactic for flight campaigns with the intention of offering spaceflights into the Aurora Borealis. So, the way things are going, it appears that places like Las Cruces and Kiruna will become forever associated with space travel for the masses instead of Miami.
What went wrong? Who was in charge of Florida politics when all of this was taking place? Who's in charge now? Does anyone in government care? Well, it looks like our new governor does care and has already set things in motion.
Space Florida
, chaired by Governor Crist, has listed this as it's number one goal:
"Develop and obtain an FAA license to operate at least one horizontal launch spaceport in Florida to capture suitable aerospace activities, sub-orbital space tourism, travel and cargo operations, and reach agreements with commercial interest to locate launch, headquarters, services, and support activities in Florida."
Let's just hope it's not too late.
You can contact
Space Florida
about our existing "spaceport" in the middle of the Everglades here:
Sonya Montgomery
Senior Vice President
Communications and External Affairs
Telephone: (321) 730-5301 extension 225
Fax: (321) 730-5307
Email: smontgomery@spaceflorida.gov
MVB would also suggest you get in touch with
Spacearium
, a Florida group with the same goals.