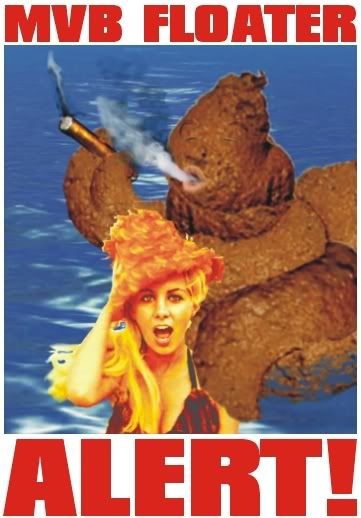 Many of you have emailed us with your concerns about C. "Boss" Poop swimming and/or floating in our water. This is quite normal considering more than half of the sewage from Dade County is disposed of through ocean outfalls (see picture).
When asked where he swims by our MVB intern (hey, we're not asking him an innuendo laden question like that), Poop exhaled cigar smoke in his Bicentennial Park sewage lift station lair, paused and assured us in a deep gaseous voice that the only swimming he does is far out in the Atlantic Ocean unless, of course, the seas are rough and he is pushed toward shore by the wind and waves. He added, after emitting what our intern described as the mother of all farts that literally shook the room and caused him to cut the interview short, he's only speaking for himself and that the question is more fitting for his cousin Fecal "Freddy" Coliform who resides at the Miami Beach sewer plant with an outfall line much closer to south Florida's beaches. Still, dear readers, your anxiety was so palatable on whether or not to go to the beach that MVB decided to help make your life a whole lot easier. As a public service, we are proud to bring you the one click
MVB FLOATER ALERT
. Finally, no more fretting over free range floaters when planning a day at the beach. Found at the top on the right side of the Home Page, with just one
click
you can learn if the water you're planning on swimming in is clean and safe at
15
beaches in Miami-Dade County.