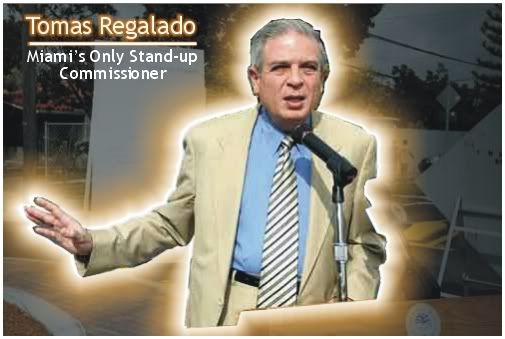 Miami's Manny Diaz is one tricky guy. Yesterday he got everything he wanted-- at the people's expense. Instead of putting the issue of diverting needed tax dollars from Miami's slums to building a new
baseball stadium
, tunnel, and propping up the Carnival Center for the Performing Arts, he worked behind the scenes with Miami-Dade County Manager George Burgess to come up with the billion-dollar-plus "Global Agreement" that should have gone before the people and not five commissioners. Miami City Commissioner
Tomas Regalado
was the only one who didn't succumb to "deadline" pressures from lobbyists, standing against it for all the right reasons: the city should be using that money as it was meant to be used-- for capital improvements downtown in its blighted areas.
"The city should not be in the business of paying for the tunnel," he said. "That's a regional issue. It's a state issue. It's a federal issue."
Unfortunately, none of his fellow commissioners were listening. It was disappointing to see commissioner
Michelle Spence-Jones
flip-flopping this time around-- though not surprising since she once served as an aide to Manny and has said more than once she considers him her mentor. After all, as proposed under these new rules, the expansion of the Community Redevelopment Agency means taxes once earmarked for rebuilding the blighted parts of town-- where most of her fellow African-Americans live-- will be siphoned off to partially finance the $1.3 billion Port of Miami tunnel ($50 million will go toward building the tunnel which is now listed by the Miami Herald at $914 million-- as if that will make its cost more palatable since they have come out in favor of building it), the Florida Marlins baseball stadium ($500 million), Carnival Center ($500 million to pay down its debt), a streetcar to MidTown ($200 million), and more. We can only hope that the "Global Agreement" makers don't have any legal grounds for re-writing how the CRA's funds are used and that the Florida Marlins can't come up with their $155 million share for the stadium. Although this comes up before the Miami-Dade Commission Monday, we only see them rubber stamping this race to build a tunnel to special interests and to choose the lesser of visions.
For Commissioner Regalado's ballsy vote, we dedicate this song to him with hopes he will adopt it from
Billy Jack
as a theme song for a future run for the City of Miami's Mayor's office. Right now, Commissioner Regalado, you're our Billy Jack!
UpDate (2/16):
The Miami Herald reports today that the FDOT officially awarded the contract to build the tunnel to Bouygues Travaux Publics. We find it interesting with each new story how cheaper the tunnel gets. Today the estimated cost to build it is $914 million. Could it be the paper is distorting its actual cost for reasons unknown to the public? And if so, why?
UpDate (12/13):
Christmas comes early with the announcement that the tunnel project succumbs to a well-deserved death when the state and Bouygues Travaux Publics can't agree on terms. Hurray!
UpDate (4/1/2008):
Regalado announces his run for Mayor of Miami. You can learn more about what he stands for and help his noble cause by clicking
here
.