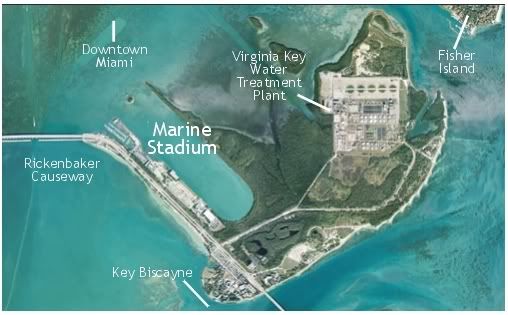 For all of those who want to save the Miami Marine Stadium, the next
Virginia Key Masterplan and Workshop
will be:
La Salle High School (Cafeteria)
According to the City of Miami Planning Department, "the focus of this meeting is to hold a design workshop intended to generate a list of island-wide improvements for the future of Virginia Key."
MVB urges you to attend this meeting to make your case for saving the Marine Stadium. If you cannot attend, we hope you will consider expressing your desire to save the stadium through a "feedback" link provided
here
.
UpDate (9/19/08):
Friends of the Miami Marine Stadium
pulled off a major coup: they got the
World Monuments Fund
to endorse saving the Marine Stadium. This couldn't have happened at a better time because The City of Miami Historic and Environmental Preservation Board will discuss and possibly make a determination of the final historic designation of the Miami Marine Stadium at their meeting on Tuesday, October 7, at 3:00 PM, City of Miami Commission Chambers. Failure to do so should make them look like idiots-- or at least suspiciously on the take. If you got the time, try to stop by to make your voice heard.
UpDate (10/7/08):
The City of Miami historic preservation board finally saw the light: by a vote of 8-0, it agreed to designate the Miami Marine Stadium worthy of preservation as an historic site. Let's see the visionless try to knock it down now!